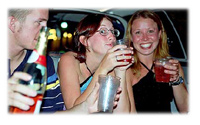 Champagne Limousine Tour of Miami
We call this the "VIP Party LimoTour". This tour is a great choice for first-time visitors where our "living room-style" atmosphere creates friendly dialogue between the guests themselves.
Want to see Miami like a VIP?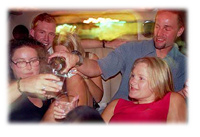 Look no further than the 1-Hour Champagne Party Night Tour. Experience the City's lights in high-energy VIP style, sipping complimentary champagne, dancing in your seat, conversating, singing along with popular, upbeat music. There is no better way to start your night.
10 passenger Limo - $125 + grautity
16-18 passenger SUV Limo - $185 + grautity
20-22 passenger SUV Limo - $225 + grautity